Expertise centre for worldwide mobility
The first four-wheel motorised coach drove up in Stuttgart Bad Cannstatt. It marked the start of an unparalleled development in mobility in all its aspects on road, rail, water and in the air.
Mobility requirements have increased; aside from growing commercial transport demands and personal mobility standards, challenges include increased pollutant emissions and resource consumption. Telematics, integrated traffic control systems and new safety systems are some of the future-focused topics.
The "Fovus" network, an association of 20 research institutes, is working on subjects including new drive technologies, new materials and alternative drive forms like hybrid technology and the fuel cell. This work is performed in close cooperation with global companies sited in the region. Stuttgart is also one of eight model regions devoted to electric mobility in Germany, selected by the Federal Ministry of Transport. Accordingly, in various projects – from electric scooters to transporters, combined with urban district concepts – the possibilities of future-focused mobility are tested and optimised in terms of their marketability.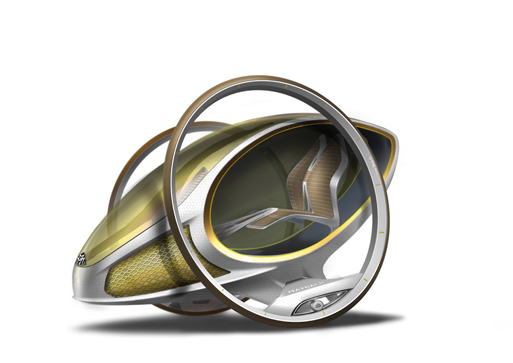 Study of a luxury electrically driven Mercedes-Benz rickshaw for tomorrow's urban mobility: the Maybach DRS, "Den-Riki-Sha"