Structural change in the Stuttgart Region
Urban living is enjoying a renaissance. Abreast of this change in trend, a structural transformation, revolving around housing development land, is also underway in the Stuttgart region. This is not only focused on the "Stuttgart 21" northern inner-city extension, either. Of key importance is the securing of existing living space through further development, revitalisation of existing property and a revival of inner cities. Another aim is to send out a visible signal in the form of creative urban development with exceptional residential and commercial buildings.

Stuttgart thus boasts a number of real-­estate projects which reflect social change and create new forms of community life. The basic needs of working, living and shopping are linked at central locations. Buildings previously of a purely commercial nature like the former headquarters of IG Metall in the west of Stuttgart are being transformed into apartments.

Green buildings, as part of an ecological and responsible approach, also play a growing role, a key aspect being the use of low-emission materials.
The thoroughly modernised post office district has earned the accolade of being awarded the very first LEED Certificate (Leadership in ­Energy and Environmental Design) in ­Germany. Its award takes into consideration energy and resource consumption, atmosphere and ambient air, the materials used, innovation and design.

The "Gerber", a 13,000 sq. m. centrally ­located property near the tanning district will combine retail businesses, apartments and offices. The offices are to be certified with the seal of quality from the German Sustainable Building Council (Deutsche Gesellschaft für nachhaltiges Bauen [DGNB]). The approval procedure entails 60 criteria being examined and assessed. Mixed work-residential utilisation is also envisaged in "Look 21", with a surface area of 40,000 sq. m. just a few minutes' walk from Stuttgart Central ­Station.

The newly designed courtyard blends in harmoniously into the Westland revitalisation project at Feuersee, while successfully combining the most varied of transport, working and living requirements.

At Schoenbergblick in Birkach a residential area has been created that satisfies a yearning for greenness close to the city centre. In a contemporary style, built with modern, natural materials it also fulfils the future energy requirements demanded of real estate and underscores the green ­nature of the urban development.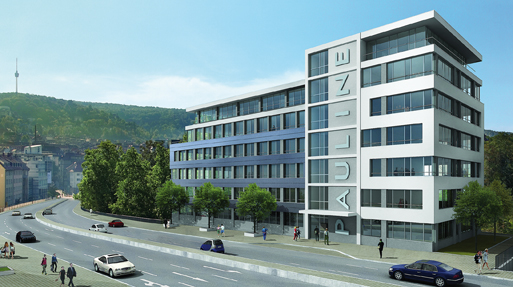 "Pauline", central with good transport links